Grace and peace to you from God our Father and the Lord Jesus Christ
With these words of St. Paul, used as a greeting in many of his epistles, I bid you a warm welcome to the Our Lady of Fatima website! As you explore our website, I hope you find it useful and informative – our parish has many ministri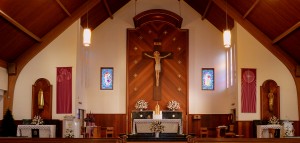 es and activities and continues to add other programs and opportunities to minister to our diverse and continually growing faith community. There is something for everyone at OLF! For those who are new to our parish or surrounding areas and if you are looking for a faith community, I encourage you to "check us out" and celebrate the Eucharist with us some weekend. You will find Our Lady of Fatima parishioners to be very friendly and welcoming. I know this from personal experience when I became pastor here in July 2012! So please introduce yourself that we might begin to get to know you. Let us continue to pray for one another as we build up that unique part of the Body of Christ which is Our Lady of  Fatima Parish.
God Bless!
Father Mulranen
 On Thursday, January 22, thousands of people from all over and of all ages,  Marched for Life in Washington, DC.  Words cannot adequately describe this event, which is growing every year.  
Sometimes pictures do speak louder than words.
Important information regarding OLF Volunteer mandatory clearances.  OLF Clearances Flyer