Holy Orders
Holy Orders is the sacrament through which the mission entrusted by Christ to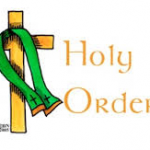 his apostles continues to be exercised in the Church until the end of time: thusit is the sacrament of apostolic ministry. It includes three degrees:episcopate, presbyterate, and diaconate.
Catechism of the Catholic Church  1536


Those who think they have a calling to the Priesthood may contact one of the Parish Priests or call Rev. Stephen DeLacey, the Vocation Director at St. Charles Borromeo Seminary, at (610-667-5778) directly .