We will resume our regular Masses beginning Saturday, June 6th
GUIDELINES FOR OPENING OF CHURCH FOR PUBLIC MASS
The faithful continue to be dispensed by the Archbishop from the obligation to attend Mass on Sundays and Holy Days of Obligation until further notice. You may still watch the Livestream Masses. If you are feeling sick, please do not come to Mass.
To practice social distancing please sit in the pews without the tape. Families who live together , of course, can sit together.
Those attending Mass, ages 3 years and older, must have a mask on at all times except for the reception of Holy Communion. Please keep your mask on until you exit the church.
Please use the main doors of the church and use the hand sanitizer that will be available for you.
Elderly, sick, and those with health conditions should remain home at this time.
Please do not gather before or after Mass.
Pews will have no missals or booklets. You may bring your own.
We will offer Communion during the Mass. Please come single file in the aisle maintaining 6 feet between you and the person in front of you. If you wish to receive Our Lord on the tongue, please line up last in the main aisle only.
There will be no sign of Peace at this time.
Parish bulletins will be available to take home.
All Masses including daily Masses will be upstairs in the main church. We will get through this and I know that God is welcoming us home.
---
"Grace and peace to you from God
Our Father and the Lord Jesus Christ."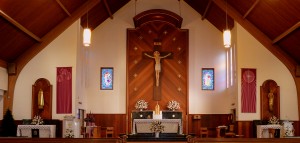 With these words of St. Paul, used as a greeting in many of his epistles, we bid you a warm welcome to the Our Lady of Fatima website! As you explore our website, we hope you find it useful and informative – our parish has many ministries and activities and continues to add other programs and opportunities to minister to our diverse and continually growing faith community. There is something for everyone at OLF! For those who are new to our parish or surrounding areas and if you are looking for a faith community, we encourage you to "check us out" and celebrate the Eucharist with us some weekend. You will find Our Lady of Fatima parishioners to be very friendly and welcoming. So please introduce yourself that we might begin to get to know you. Let us continue to pray for one another as we build up that unique part of the Body of Christ which is Our Lady of Fatima Parish.   God Bless!