Please watch our Sunday Masses on our FACEBOOK page.
---
My dear Parishioners,
It almost seems unreal to be writing this letter to all of you. The news we have been hearing for the past week or so indicates this way of life will be the norm for a while.
I worry about everyone. I worry about my family, especially my Mom who is 101 years old whom I am unable to even visit right now. I worry about my brother, his family and I worry about my sister. I worry about all of you, my parish family.
I speak for Father Gillin, Father Lonergan, Deacon Gary, our Sisters and all of our staff when I say we miss you. We miss seeing you at Mass and other activities.
I would be remiss to say I am not worrying about the financial situations of our people. I know some of you cannot work because of the latest "Stay at Home" order. I am praying for all of you. I am worried about the financial stability of our parish. For those who are able, we are most grateful if you send in your contribution or go online to olfsecane.org. In the left column you will see a link to contribute on line.
Most important though, I want you to know all of us priests are saying private Masses for you and your families. All Mass intentions will be honored.
It is extremely important that we pray for this to pass. We pray especially for all of the healthcare workers on the front lines. There are many, many others out there in all different jobs who are helping us to survive. We pray for them.
I look forward to seeing our beautiful church filled with all of you when this invisible enemy goes away.
Until we meet again, May God bless all of you and your families. Please do your best to stay well and pray to the Patron of our church, Our Lady of Fatima.
Last but not least, Mayzie and Roman are missing you all.
Father Slobogin
P.S. On catholicphilly.com you will find a list of parishes that are livestreaming Masses. Also, on EWTN, Mass is on at 8:00 a.m. and 12:00 p.m. each Sunday.
---
"Grace and peace to you from God
Our Father and the Lord Jesus Christ."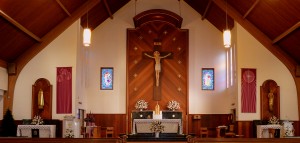 With these words of St. Paul, used as a greeting in many of his epistles, we bid you a warm welcome to the Our Lady of Fatima website! As you explore our website, we hope you find it useful and informative – our parish has many ministries and activities and continues to add other programs and opportunities to minister to our diverse and continually growing faith community. There is something for everyone at OLF! For those who are new to our parish or surrounding areas and if you are looking for a faith community, we encourage you to "check us out" and celebrate the Eucharist with us some weekend. You will find Our Lady of Fatima parishioners to be very friendly and welcoming. So please introduce yourself that we might begin to get to know you. Let us continue to pray for one another as we build up that unique part of the Body of Christ which is Our Lady of Fatima Parish. God Bless!